Members to Watch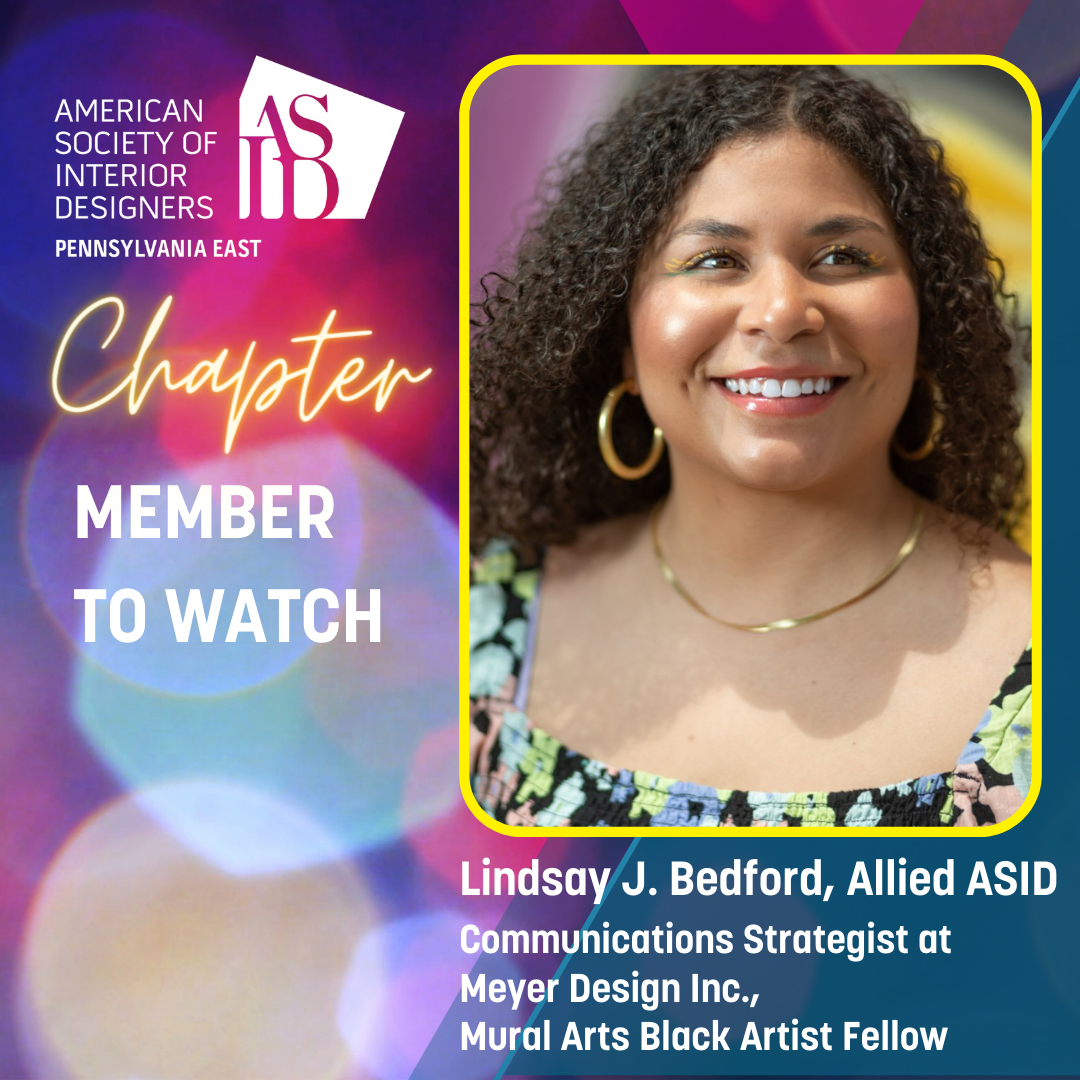 Lindsay Bedford, Allied ASID – Lindsay is a Spatial Storyteller, Communications Strategist at Meyer Design Inc., and a Mural Arts Black Artist Fellow. In June of 2021, Lindsay graduated from Drexel University with a Master of Science in Interior Architecture & Design. She is passionate about the power of design and the opportunities it provides to spark change in our communities and society overall. This belief influenced her graduate thesis, "A New Life: Reframing and Repurposing the Art Museum of the 21st Century". With her thesis, Lindsay asked, "What is a museum and what is the role this anchor institution plays in the 21st century?" Her thesis explored these questions along with how design can be utilized to create a more equitable and culturally responsive art museum, specifically in an underserved community in Philadelphia. Lindsay hypothesized that by focusing on equity, access, activism, and advocacy, while providing an environment to promote local initiatives, creativity, and innovation, the museum's primary function can change from an archive of physical objects to an archive of cultural memory. Lindsay believes that by structurally changing the institution to have a stronger focus on the visitor and their experiences/connections made in the museum, the museum becomes an archive of the people and their communal identity.
Lindsay's design, Makum Busho Art Museum of the People is located at the former Free Library of Philadelphia, Germantown Branch, in Vernon Park. Lindsay reimagined the space, which currently serves as a senior center into the "model" for the art museum of the 21st Century. Lindsay's design is a culturally responsive, participatory museum that celebrates experiential learning and human connection with a focus on Philadelphia's Pan-African art scene. Her design conceptually blends the boundary between interior and exterior to activate the site with programming throughout. The design features a material palette that purposefully juxtaposes new with old materials, including original Wissahickon shist shale, mosaic tile artwork from the original site, and local art from living Germantown artists. These design choices allowed Lindsay to create an unapologetic space with fantastical surprises that demystify and reframe the museum experience for visitors.
Lindsay is also the Chapter's Student Represenative to the Board and will transition to Emerging Professionals Chair in October!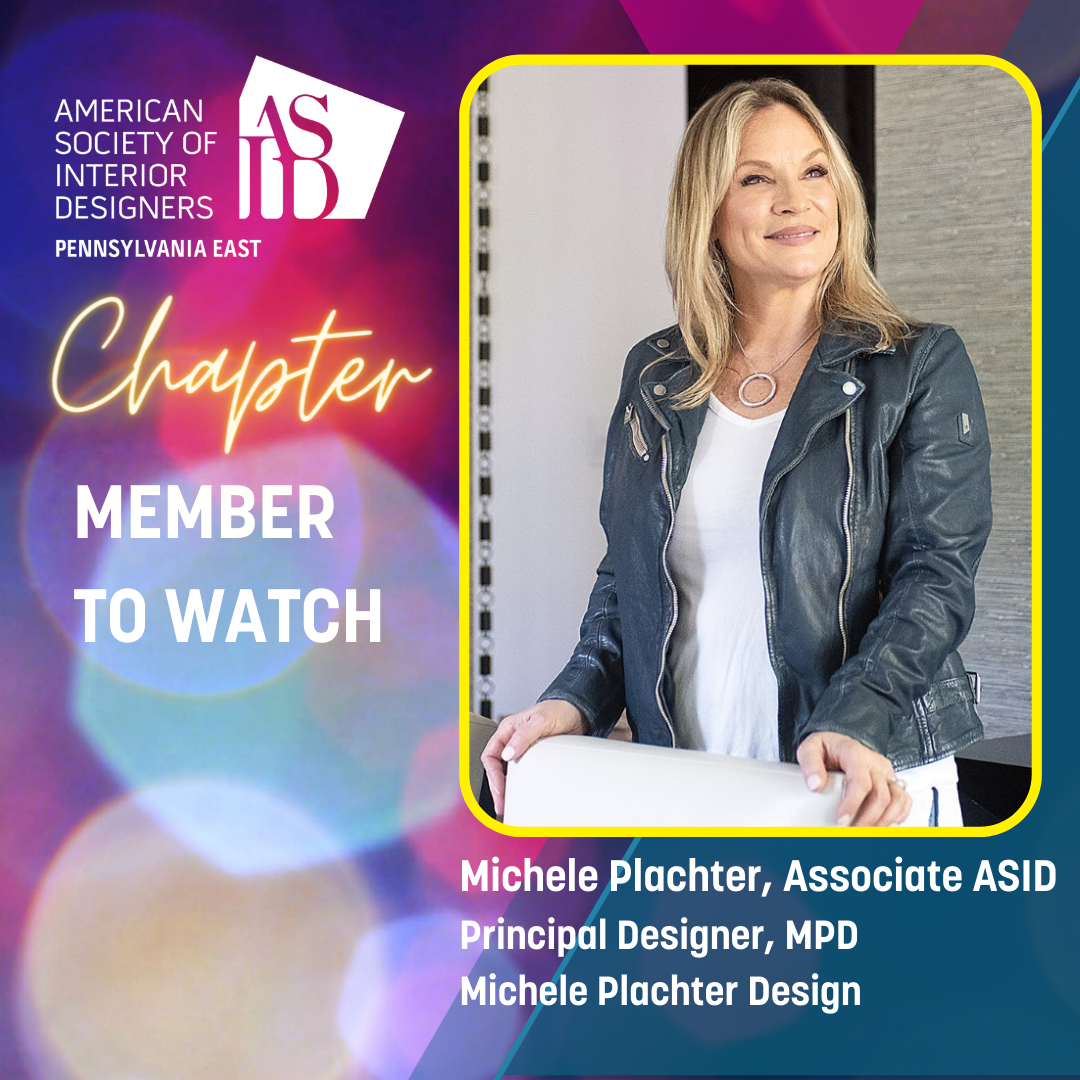 Michele Plachter, Associate ASID - Michele owns one of the mid-Atlantic's fastest growing full service design firms, Michele Plachter Design, and her work has been featured on TV and in such national design publications as House Beautiful and Traditional Home. Her most recent featured publication is an 8-page spread in Traditional Home's 2021 special bookazine, "Outdoor Rooms & Retreats." She is also currently expanding her business to work on primary and vacation homes, as well as small commercial projects from coast to coast. "We work hard to create an ideal custom experience every time," Michele says. "That means regular communication, resolving problems promptly, managing their budgets carefully, and working behind the scenes to ensure that installations are seamless." She has won service as well as design awards, and forms close relationships with her clients. Those clients use words like "detail-oriented, articulate, thoughtful and talented," "very knowledgeable," and "a joy to work with" to describe Michele, and "timeless" and "functional and gorgeous" to characterize her work.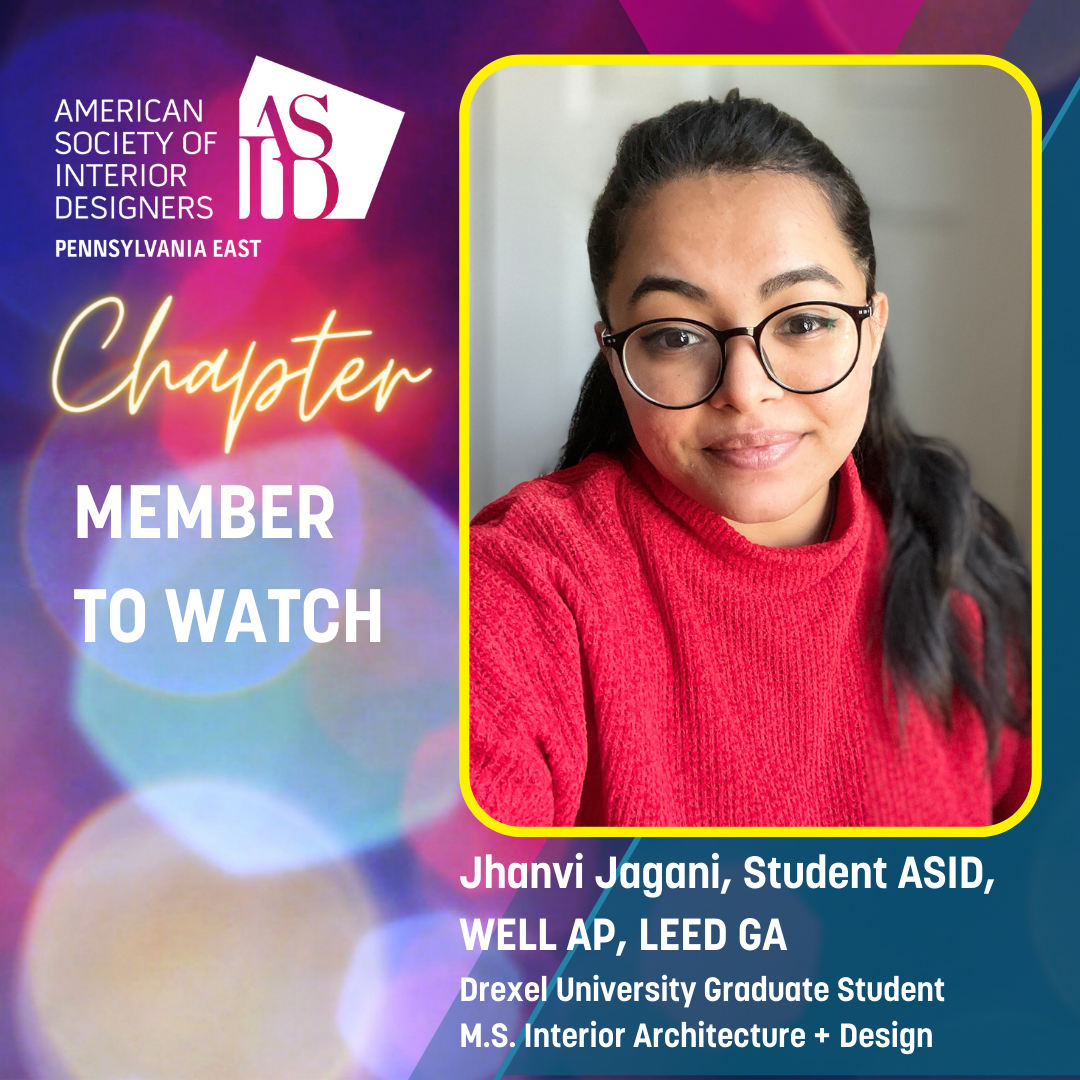 Jhanvi Jagani, Student ASID, WELL AP, LEED GA – Jhanvi is a student member of ASID, a graduate student at Drexel University, on the cusp of her graduation. Jhanvi's thesis research focus is based on composing experiences within In-Between places, by exploring the idea of liminality and place identity as a threshold toward creating an enhanced experience for the user and implemented within an Airport, which serves as an in-between place in a journey.
Jhanvi is sensitively addressing populations who experience unprecedented delays when confined to an airport setting-such as pandemic and beyond. To solve this, Jhanvi is creating an immersive 360◦ experience by proposing an airport extension for interactive public activities.
With anticipated graduation in June from Drexel University with M.S. Interior Architecture + Design; Janvi plans to work in sectors such as hospitality, commercial, Mixed-use, Retail, Multi-family, Food/beverage, and entertainment with an impact toward building a sustainable future.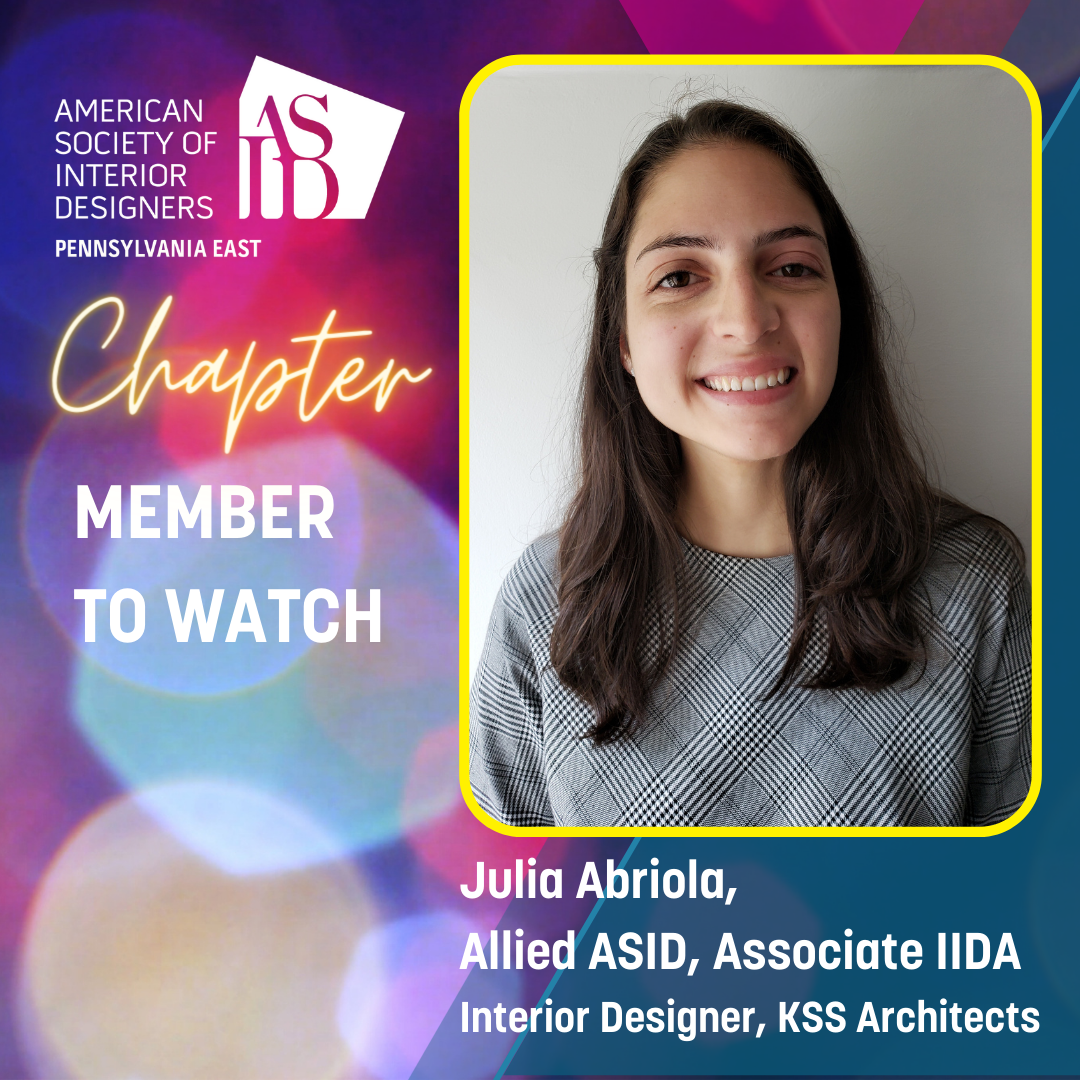 Julia Abriola, Allied ASID, Associate IIDA – "As interior designers, it is our job to find solutions to our clients' design dilemmas. We are creative problem solvers by nature. It is for this reason, and even more so in the beginnings of a post-pandemic world, why I am looking forward to holding the position of ASID PA East's Professional Development Director later this year. As this semester's batch of freshly graduated designers embark on the next stage of their career, how will this new work environment greet them? How can we best prepare them for the challenges they may face ahead? For current design professionals, how can we help them adapt to the up-and-coming hybrid work model, and bolster their passion for their upcoming projects? Through the planning and production of educational, constructive, encouraging, and inspiring activities and events, I aim to answer those questions, and aid us all in solving those problems."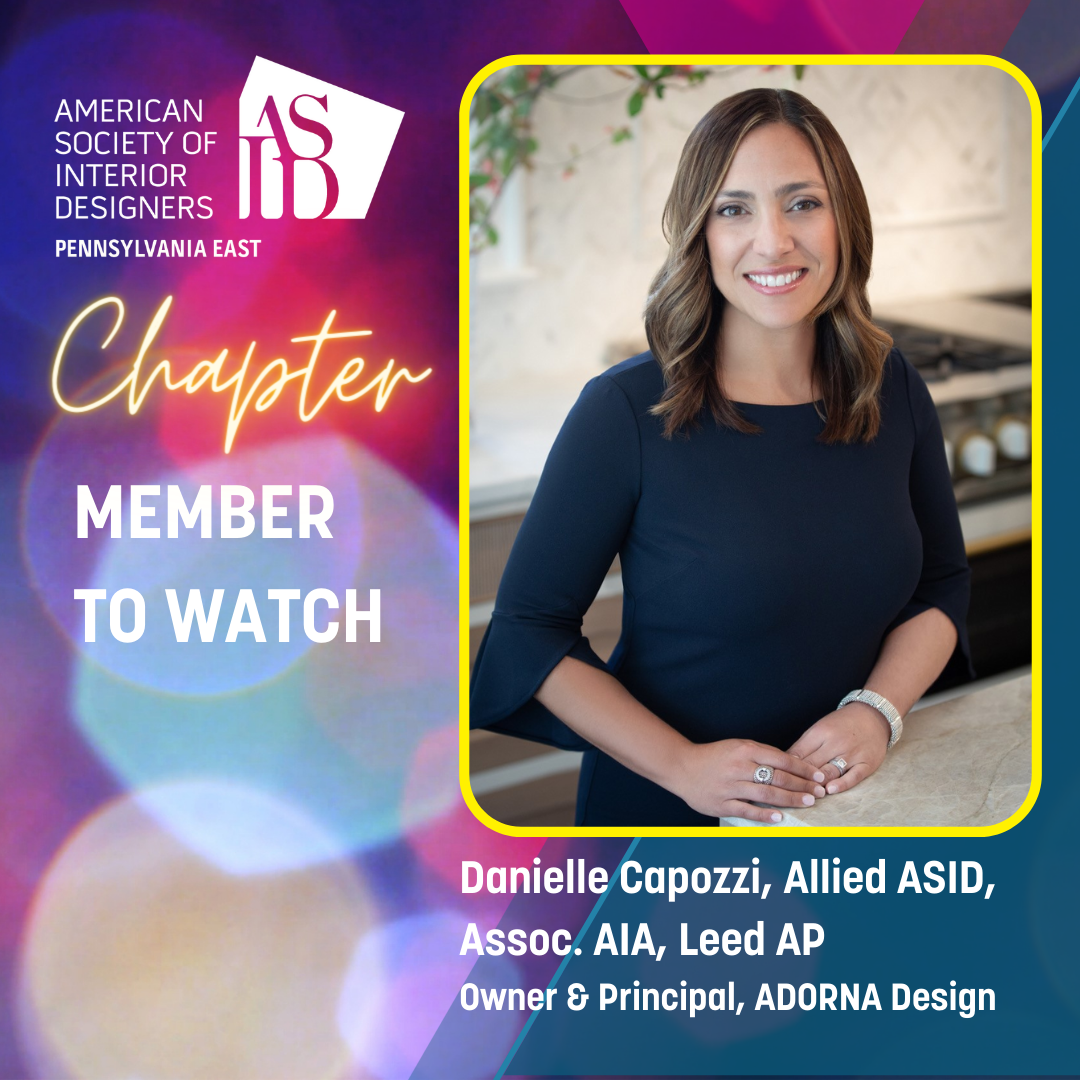 Danielle A. Capozzi, Assoc. AIA, Allied ASID, LEED AP – "Design professionals and industry partners are seeing a surge of client interest to act on back burner projects or pipe dreams. In the ever-changing pandemic environment, ADORNA Design believes that the nexus of a successful project is communication. Thus, we emphasize transparency around the impact to our clients' time and budget. We've also grown a team of architects, designers and administrative support over the past year to meet the increased demand, recognizing the opportunity to streamline processes and create efficiencies in how we coordinate with each other, clients, contractors and vendors. From concept to construction, ADORNA Design is harnessing our multidisciplinary experience and holistic design approach to truly lean into what we do best: transforming people's lives by starting with the physical spaces they live, work and play"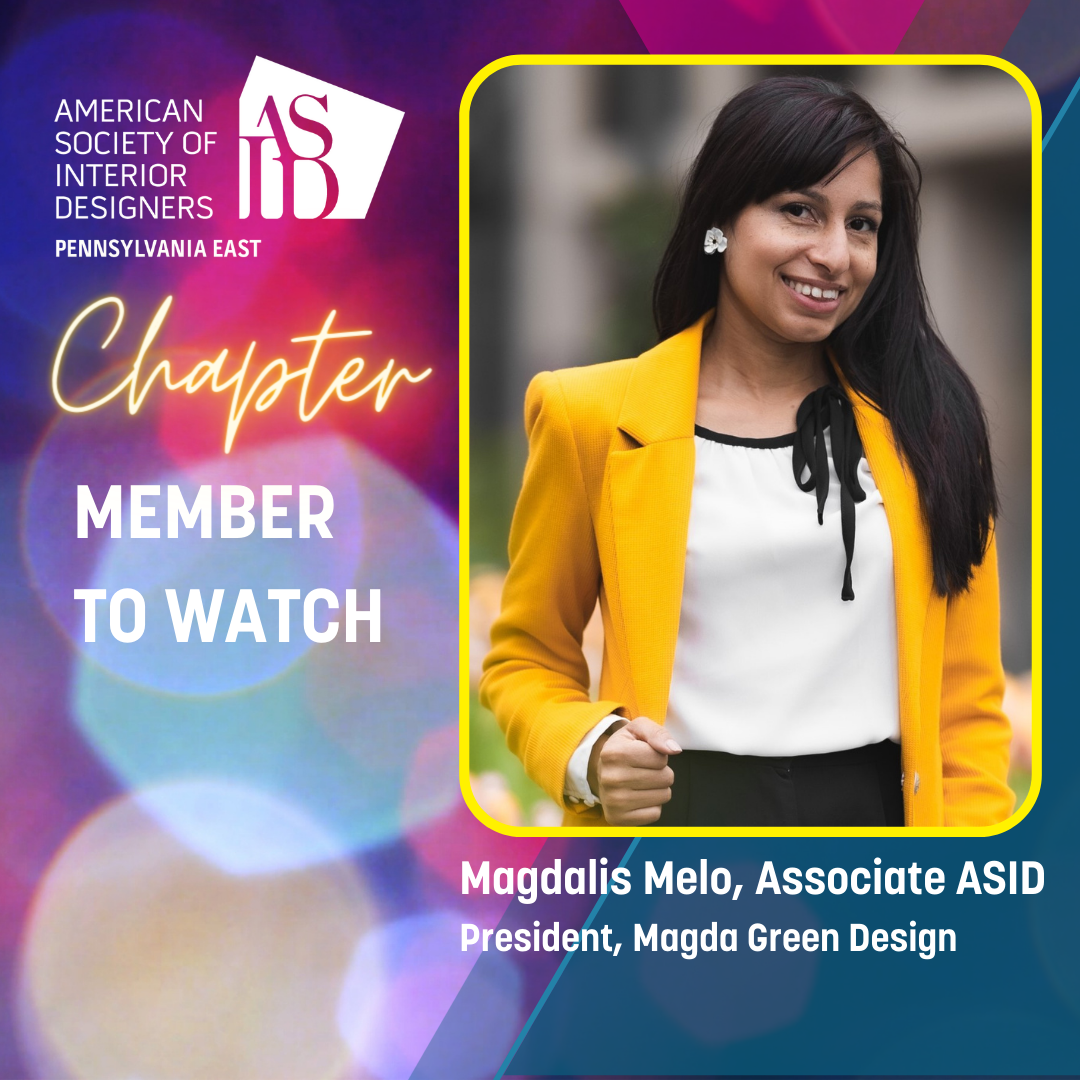 Magdalis Melo, Associate ASID – "As a woman minority-owned business, we merge world culture and diversity while maintaining an aesthetically pleasing environment for every client. As an interior designer, it is important to capture the essence of effective solutions for every client's need, while providing classic details and distinct touches of textures and patterns. We must make sure to not only have a strong work ethic and stay detail oriented, but also stay current in a way that adds sensibility to each space.
COVID completely changed every business and it is now more than ever imperative to nourish and establish relationships with clients to further add value to all that we do in a safely manner. The rise of social media has helped educate the public to all the different ranges that we as designers can provide for them. As such, learning new skills and gaining certifications contributes merit to all that we do as designers to be able to constantly provide the highest quality in each project to seamlessly coordinate form and function enabling the creation of beautiful and innovative architectural spaces for everyone."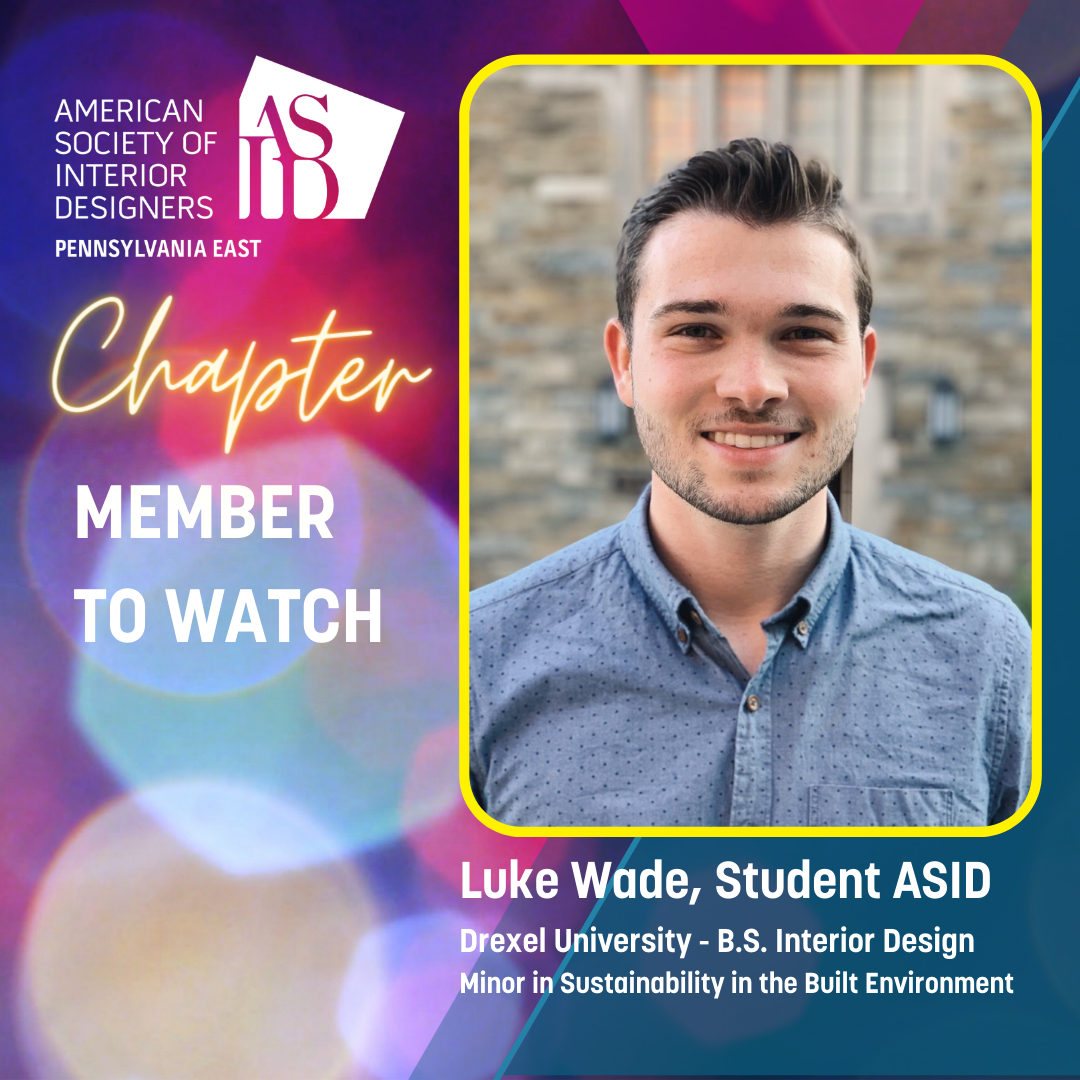 Luke Wade, Student ASID – "As an ASID student member and a student board member of the Interior Design Legislative Coalition of Pennsylvania, I couldn't be prouder to be involved as I look to my graduation in June from Drexel University with a B.S. Interior Design and a Minor in Sustainability in the Built Environment. Interior designers remain at the forefront of the human experience in offices, restaurants, and more, and as we begin a return to in-person work, dining, and entertainment, interior designers can play a key role in adapting to a post-pandemic world. At IDLCPA, I assist in advocating for the passage of a bill in the Pennsylvania legislature that would allow interior designers across the commonwealth to become registered, lifting restrictions that currently limit the abilities and impact of talented interior design professionals across the state."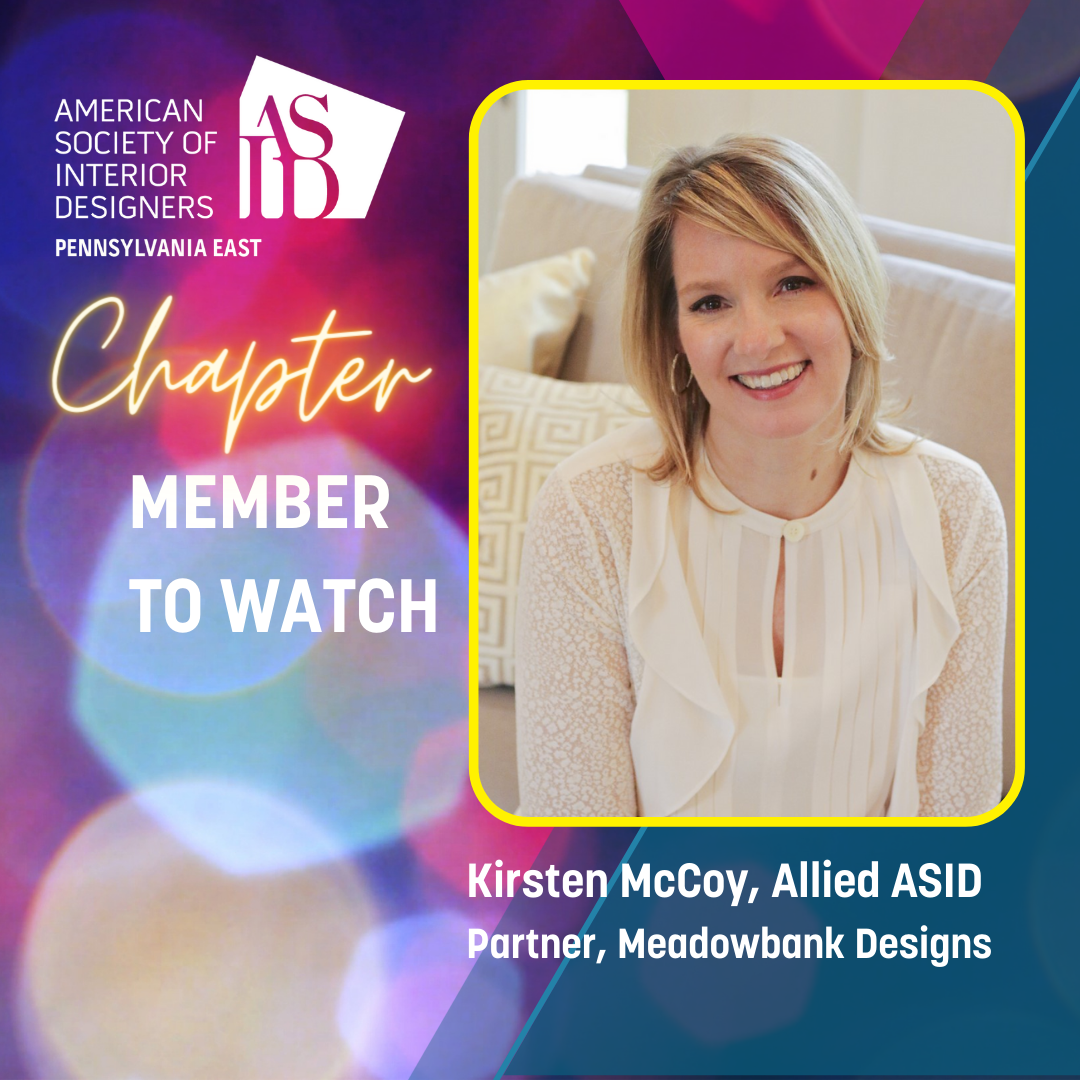 Kirsten McCoy, Allied ASID – "Like many local designers, COVID has spawned a lot of new projects for us with repeat clients wanting to refresh their homes after being home so long, as well as lots of new clients moving to new homes and building new homes with wonderful local architects. We launched our new website and branding a few months ago in the height of COVID lockdown but it has proven to be attracting our ideal client by speaking directly to their needs and worries, as well as being more explicit about the process we use and the services we really want to offer. It has eliminated lots of tire-kickers and we are excited about all of the upcoming projects we have for 2021. "