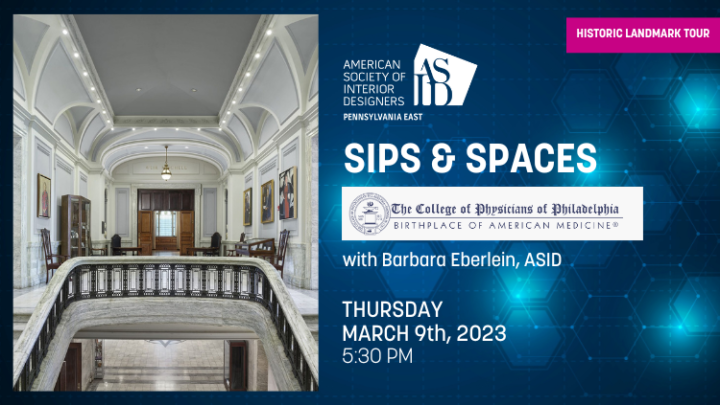 Sips & Spaces - College of Physicians
Description
Interior Design Community members join ASID PA East for Sips & Spaces 3/9/23 at The College of Physicians, an National Historic Landmark.
Featuring tour led by Barbara Eberlein, ASID the President and Creative Director of Eberlein Design Consultants.
Eberlein Design Consultants won a 2022 Trumbauer Award for The College of Physicians, Philadelphia, PA in Historic Preservation
Meet us at The College of Physicians. Registration beginning at 5:15 PM
Private tour will begin promptly at 5:30 PM 5:30 PM.
Bring a friend or come by yourself to see this amazing Philadelphia landmark.
Following the tour we'll head on over for Sips at MIX Bar & Grill at 2101 Chestnut St, Philadelphia,
From eberlein.com
Founded in 1787, the College of Physicians of Philadelphia has an enlightened mission to advance the cause of health while upholding the ideals and heritage of medicine. Its Historical Medical Library was Philadelphia's central medical library for over 150 years and today is one of the world's premier research collections in the history of medicine. The College's collection of early printed books includes more than four hundred incunabula (editions printed before 1501), and their extensive archives and manuscripts document the history of medicine around the world.
Today we are restoring this illustrious 1928 Cope & Stewardson building, addressing both the majestic public spaces and the research libraries. A strong belief that this unique facility advances their mission is serving as our guide to the restoration. Special attention is being paid to climate controls to safeguard precious books, manuscripts, and art; to refreshing the color palette to highlight the historic stone mantels and quarter sawn oak paneling and extensive decorative plaster ornament; improving decorative and task lighting; and uncovering original architectural elements long-hidden due to previous renovations.
Free for ASID Members
$10 Charge Non Members
Drinks/Food at MIX Bar & Grill is responsibility of attendee.
Photos Courtesy of Eberlein Design Consultants