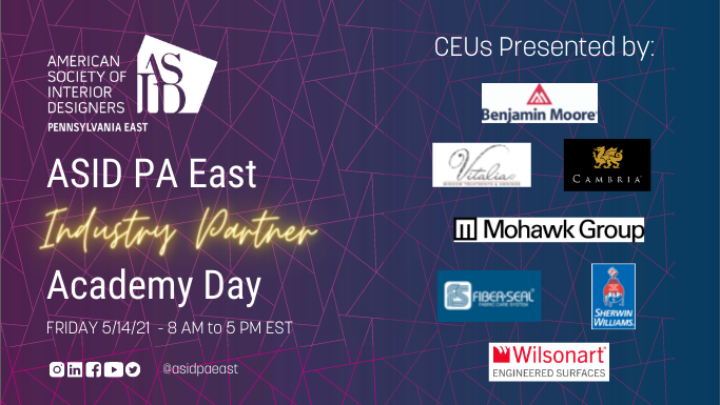 ASID PA East Industry Partner Academy Day
Description
PLEASE JOIN THE ASID PA EAST CHAPTER AS WE RECOGNIZE THE OUTSTANDING INDUSTRY PARTNERS OF OUR CHAPTER & ASID NATIONAL WITH OUR INDUSTRY PARTNER ACADEMY DAY.
Seven CEUs will be provided throughout the day. Please register for 1 CEU or all 7!
Registration is required and attendance will be provided to the provider to submit for credit.
8 AM
Color & Paint in Environments for the Aging presented by Linda Cipriano of Benjamin Moore & Co.
This course provides an overview of the changes in color perception because of aging or disease. This course examines the various types of common care environments available for the elderly and features a discussion on the application of low- or no-VOC, durable, high-quality paint, and appropriate color use to facilitate wayfinding.
# of Course Hours: 1.0
IDCEC Accredited
Provides HSW Credit
9:15 AM
Window Treatments – Demystified presented by Vita Vygovska of Vitalia Inc. – Window Treatments & Awnings
Best practices in specifying window treatments and communicating with a custom workroom.
# of Course Hours: 1.5
IDCEC Accredited
10:30 AM
Practically Optimistic: Channeling Optimism as a Guiding Design Principle presented by Lori O'Brien of Cambria
Course objective: To educate specifiers on how to channel the inherent optimism of their profession while acknowledging practical needs of a space to create positive impact for the people they serve and the planet they work to preserve.
# of Course Hours: 0.1
IDCEC Accredited
Provides HSW Credit
12:00 PM
Color and Design Vision 2021: The Visual Age presented by Royce Epstein, ASID IP, A&D Design Director at Mohawk Group.
This CEU will explore The Visual Age, a new era where there is visual literacy and creative democracy for all. During this talk, we will analyze the state of visuals today in the era of social media and reliance on technology for visual communication.
# of Course Hours: 1.0
IDCEC Accredited
1:30 PM
The Hard Facts About Soft Surfaces presented by Lisa Jones of Fiber-Seal Northeast.
Upon completion, attendees will be able to apply 'real world' textile facts and understand how they impact the selections and application of surface material life cycles in the residential or commercial environment.
# of Course Hours: 1.0
IDCEC Accredited
Provides HSW Credit
3 PM
Paint & Pigment presented by Rica Suhanec of Sherwin-Williams
Understand history, symbolism and pigments of 9 key colors as well as the reactions each color can illicit. How pigments effect performance of paint. Understand how to select high quality coatings for specific owner needs.
# of Course Hours: .1 CEU Value
IDCEC Accredited: Yes
Provides HSW Credit
4:15 PM
How Surface Color & Design Affect our Physical, Mental, & Social Well Being presented by Sally Chavez, NCIDQ, LEED AP of Wilsonart
Surface design and color impact people in one way or another. Why do some surroundings induce a sense of calm, happiness, or inspiration while others offer nothing but distraction, discomfort, chaos, doom, and gloom? Interior surfaces are the point of contact between users and their environment, as well as an important connection between the visual and physical worlds. This course examines the integral role that surface color and design play in interior spaces and how color and design can improve health, reduce stress, enhance safety, and promote well-being in building occupants. Key requirements in the selection and specification process are also discussed.
# of Course Hours: 1.0
IDCEC Accredited
Provides HSW Credit