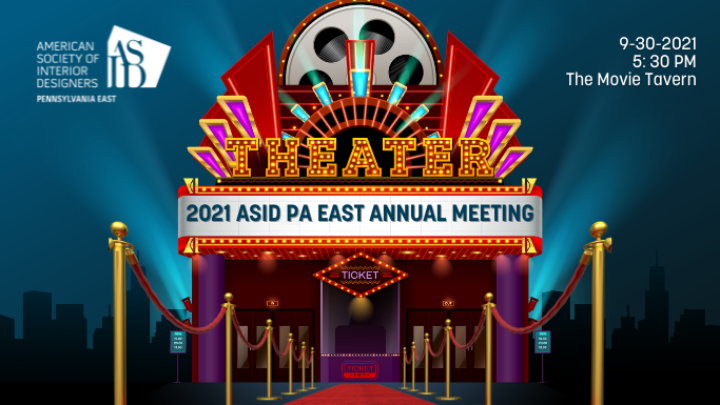 ASID PA East 2021 Annual Meeting
Description
Join us on 9/30/21 at 5:30 PM for the ASID PA East Annual Meeting
You are invited to an in-person private theatre experience on the BIG SCREEN!
Our first event back in-person! Experience a red carpet entrance followed by horderves, drinks, a full buffet, dessert, and of course POPCORN! All in a Private Theater!
AN EVENT YOU WILL NOT WANT TO MISS!!
5:30 - 6:15 PM Cocktails & Horderves

6:15 PM Buffett

6:30 PM Annual Meeting / Chapter Awards

7:30 PM Dessert and a Private MOVIE SCREENING!
Comfy individual theater seats.
Private Cocktail Reception Space.
Buffett in our private theatre.
1 Cocktail included with ticket to event (cash bar after)
Soft drinks and water provided.
We will have a private movie viewing just following the event. Title forthcoming. Please indicate on your ticket if you will be staying for the movie.
LAST DAY FOR TICKET SALES 9.19.21 AT MIDNIGHT
NO TICKETS WILL BE SOLD AT THE DOOR
$30 ASID members

$40 Non Members

FREE Students
Chapter Sponsor Tickets have designated ticket available.
CDC/Local Guidelines at the date/time of event will be in place.
Non-vaccinated attendees must wear a mask.
TICKETS PLEASE PURCHASE INDIVIDUALLY - YOU MAY PURCHASE MORE THAN 1 TICKET BUT INDIVIDUAL ATTENDEES MUST HAVE OWN SEPARATE TICKET
CHAPTER SPONSORS please purchase ticket(s) by 9.15.21
Questions - please email communications@pae.asid.org