Chapter Regional Liaisons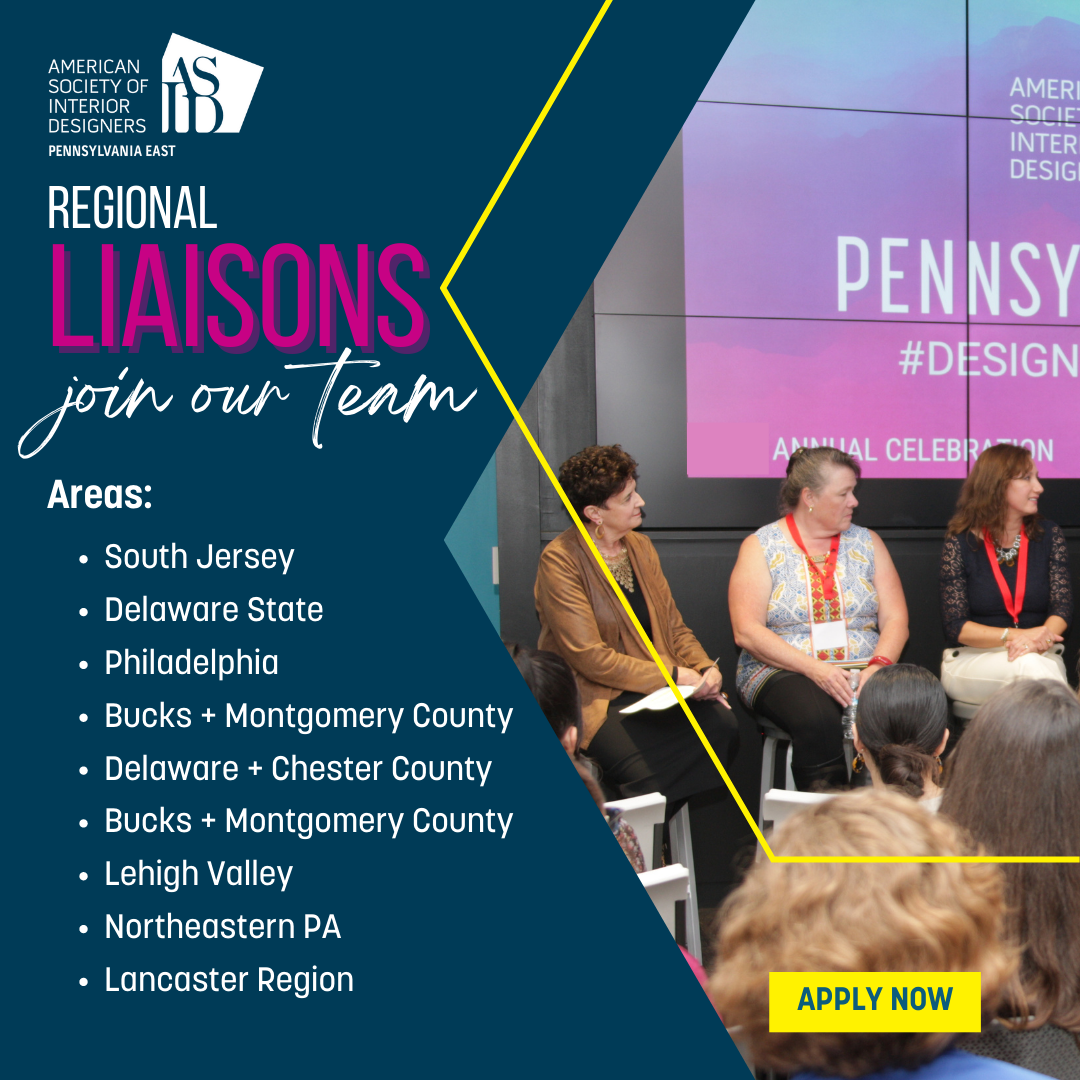 We are looking for volunteers to act as chapter liaisons tofurther strengthen our design community, assist in growing our membership, and create regional networking opportunities; within the regions of the Pennsylvania East Chapter of ASID.
Regional Liaison (2 year term) will act as a liaison between board and ASID members as well as potential members. The liaison will also represent the chapter at regional events that board members are unable to attend. The position will be appointed by the President of the Chapter.
If you are interested in being a Chapter Regional Liaison, please send your CV, LinkedIn Link and and a brief statement of interest to president@pae.asid.org *Please note Liasons are NOT Board of Director Posistions or Chairs. They are ambassadors/liaisons to the Board assisting in outreach in their region.
Chapter Regional Liaisons are volunteer positions for the following regions: (SEE PA DESIGNATION MAP BELOW
South Jersey

(Consisting of the following counties: Atlantic, Burlington, Camden, Cape May, Cumberland, Gloucester, Salem)

Delaware State

Philadelphia

(County including City) *filled

Bucks + Montgomery County

Delaware + Chester County

Lehigh Valley

(Consisting of the following counties: Leigh, Berks, and Northampton)

Northeastern PA

(Consisting of the following counties: Schuylkill, Carbon, Monroe, Pike, Wayne, Lackawanna, Luzerne, Sullivan, Wyoming, Susquehanna, and Bradford)

Lancaster Region

(Consisting of the following counties: Lancaster, York, Adams, Cumberland, Dauphin and Lebanon)
Duties will include:
Monthly virtual meetings with president-elect and membership director

Facilitate networking events for Designers and Industry Partners in region such as quarterly happy hours.

Attend industry events in their region when a board member is unable to attend.

Identify all interior design and industry partners in their area.

Create potential member list and work with membership director to recruit.

Be the liaison between membership director and potential new members in their region.

Identify events for ASID to potentially grow its brand in their region.

This candidate with report to the President-Elect.
PHILADELPHIA LIAISON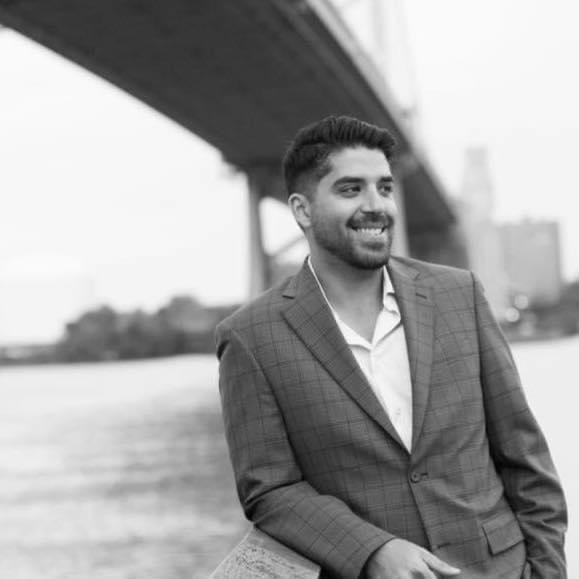 Omar Zaater, Allied ASID, joins the ASID as a Liason after building an impressive resume of residential interior design projects, many of which have earned ASID Interior Design Awards over the years - most recently earning the "Best of" for the Residential category in 2023.
In his current position as Designer / Project Director at architecture + interiors firm k YODER design, Omar spearheads luxury renovation projects offering creativity, depth of experience with cabinetry construction and materials, patience, and high-level client service. Working alongside architect Kevin Yoder, Omar has the opportunity to flex his creativity beyond interiors to architectural design and preservation, working on historically significant modern homes by Louis Kahn, I.M. Pei, Vincent Kling and Mitchell/Giurgola and more.
In his early career, Omar worked with leading regional kitchen and bath design/build firms conducting consultations, leading the design process, budgeting, and managing construction. He continued his career as a project manager and the sales rep face of a remodeling firm where he broadened his expertise in labor and construction estimating and material costs and earned National Association of the Remodeling Industry Contractor of the Year Awards for Best Residential Kitchen and Best Bathroom.
An intuitive designer, Omar's design interest traces back to his early years where he was always rearranging the furniture of his childhood bedroom. A home renovation project enabled the 16-year-old Omar to work directly with a contractor to realize his creative vision for the first time. The early exposure led him toward interior design, and he's been confidently expanding his skills ever since.
Omar holds a Bachelor of Science from the Art Institute of Philadelphia's CIDA-accredited interior design program, where his student work earned recognition in the National Kitchen and Bath Association student design program and was awarded the Academic Achievement Awards upon graduating.
Omar enjoys making music with friends, playing tennis and bike riding, and spending quality time with his daughter Kiera and wife Katie where they reside in Fishtown, Philadelphia.