Chapter Sponsorship
Letter from the President
Dear Industry Partners, Designers and Friends,
Thank you! Thank you! Thank you!
We can't say it enough. During our 2015-2016 year, through your generosity, the Pennsylvania East Chapter of ASID was able to hold an outstanding IDA Competition and Awards Gala, an extremely successful Career Day that brought us many new student members and some very informative CEUs. And we could not have done it without you, our sponsors!
Now during our 2016-2017 year, our focus is to continue to reach out to designers and associates in all areas of our Chapter at local meet-ups, including our latest initiative (which was very successful this past summer!) Sips and Spaces, with the goal of encouraging more member participation in our events and acquiring some new members as well. With your help, we can offer the type of events that will encourage networking and increase business opportunities for us all.
Please take a moment to review the benefits of the 2016-2017 Half-Year sponsorship packages. Your participation is absolutely vital to the strength of our Chapter - like I said, we really can't do it without you! And please note the discount on sponsorship packages for ASID members on the contract page. The Half-Year sponsorship package can be ACCESSED HERE.
Thank you and please contact us with any questions, or if there is a particular benefit that is of interest to you that you do not see here. Your feedback is important to us and we'd be happy to discuss alternative &/or additional options.
Sincerely,
Christine DeHart, Allied ASID President, PA East ASID, 2016-2017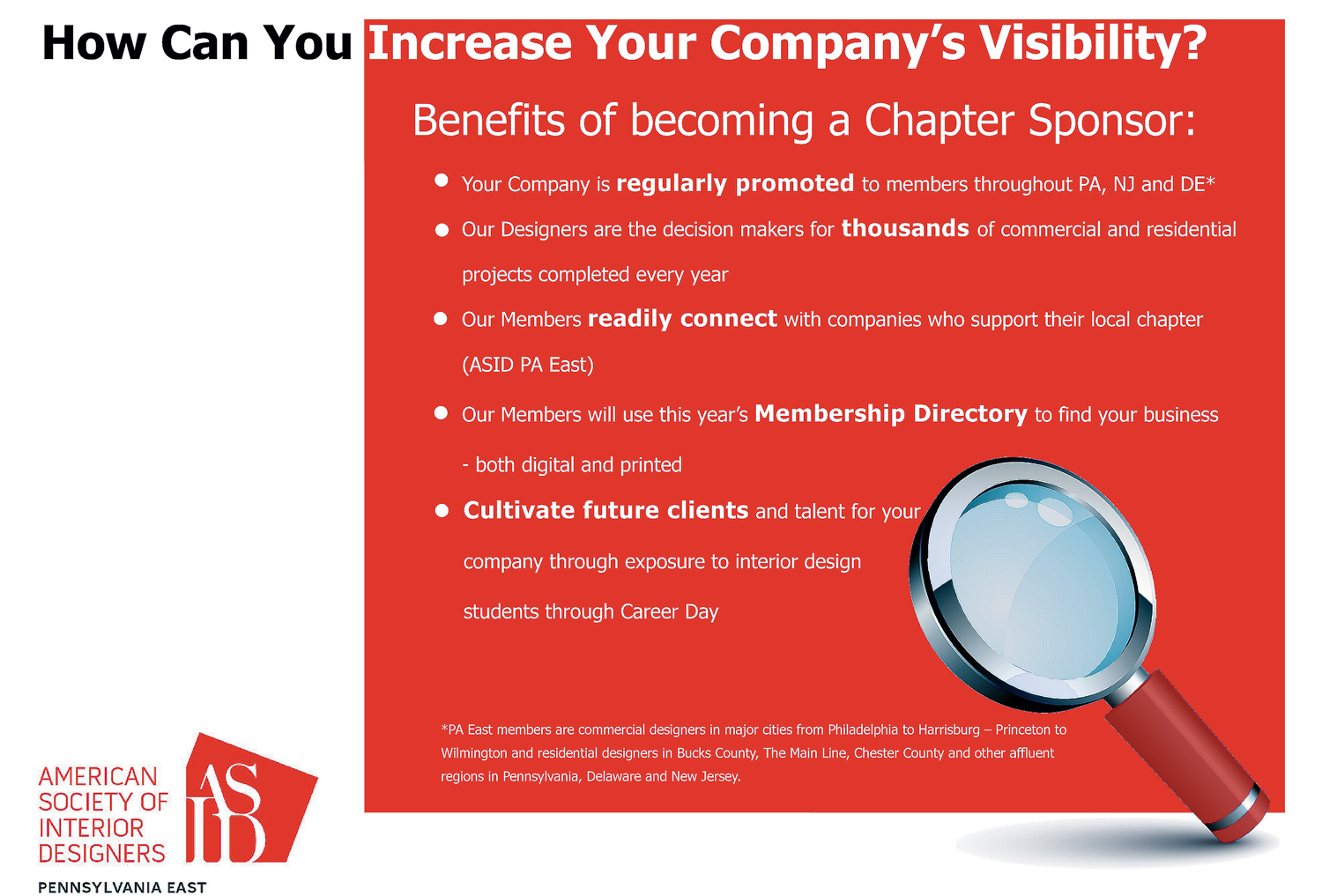 National Sponsorship
Sponsorship opportunities are available on both the local and national level, and offer the ability to increase visibility through additional marketing, branding, special access, or deeper engagement with an audience. As a member of a Chapter, Industry Partners have the opportunity to be involved in their local design community – to network and connect with other members, participate in leadership, or elevate visibility as a chapter sponsor.
To augment local chapter efforts, we also offer sponsorship opportunities that align with ASID national platforms, programs and initiatives, providing you additional access to the ASID network through a variety of channels depending on your preferred exposure.