Chapter Sponsorship
2017-2018 Chapter Sponsorship Opportunities!
Dear industry Partners, Designers and Friends,
On behalf of the Board of Directors of the Pennsylvania East Chapter of the American Society of Interior Designers, I would like to thank you for your generous support of our Chapter. We strive to develop programs and events that promote the profession, educate and engage our membership. All of these efforts would not be possible without the support of our Chapter Sponsors, Industry Partners and Friends.
2017-18 promises to be a busy and exciting period for the Chapter! We are currently planning our popular student events, informative professional development programs, a vendor showcase evening, and the 2018 IDAs (Interior Design Awards).
All of our events provide great visibility for our Chapter Sponsors, and with 2018 being an IDA year, you will have the extraordinary opportunity to participate in this very successful and increasingly popular event. We look forward to celebrating the region wide interior design profession with this competition that will culminate in a grand Awards Gala to be held at Loews Philadelphia Hotel on Friday, April 20th, 2018. The 2016 IDAs had a record number of commercial and residential entries, and we look forward to surpassing this milestone in 2018.
We are pleased to present our 2017-18 SPONSORSHIP PACKAGE for your consideration. We realize that some of your sponsorship goals may not fit within the levels noted in our program. If this is the case, please do not hesitate to reach out to us to discuss the ways that we can customize the program to fit your needs and help increase your visibility to the design community.

I look forward to discussing the chapter sponsorship benefits with and to an exciting and successful year!

Sincerely,
Dean Prokopowich, ASID
President, PA East ASID, 2017-2018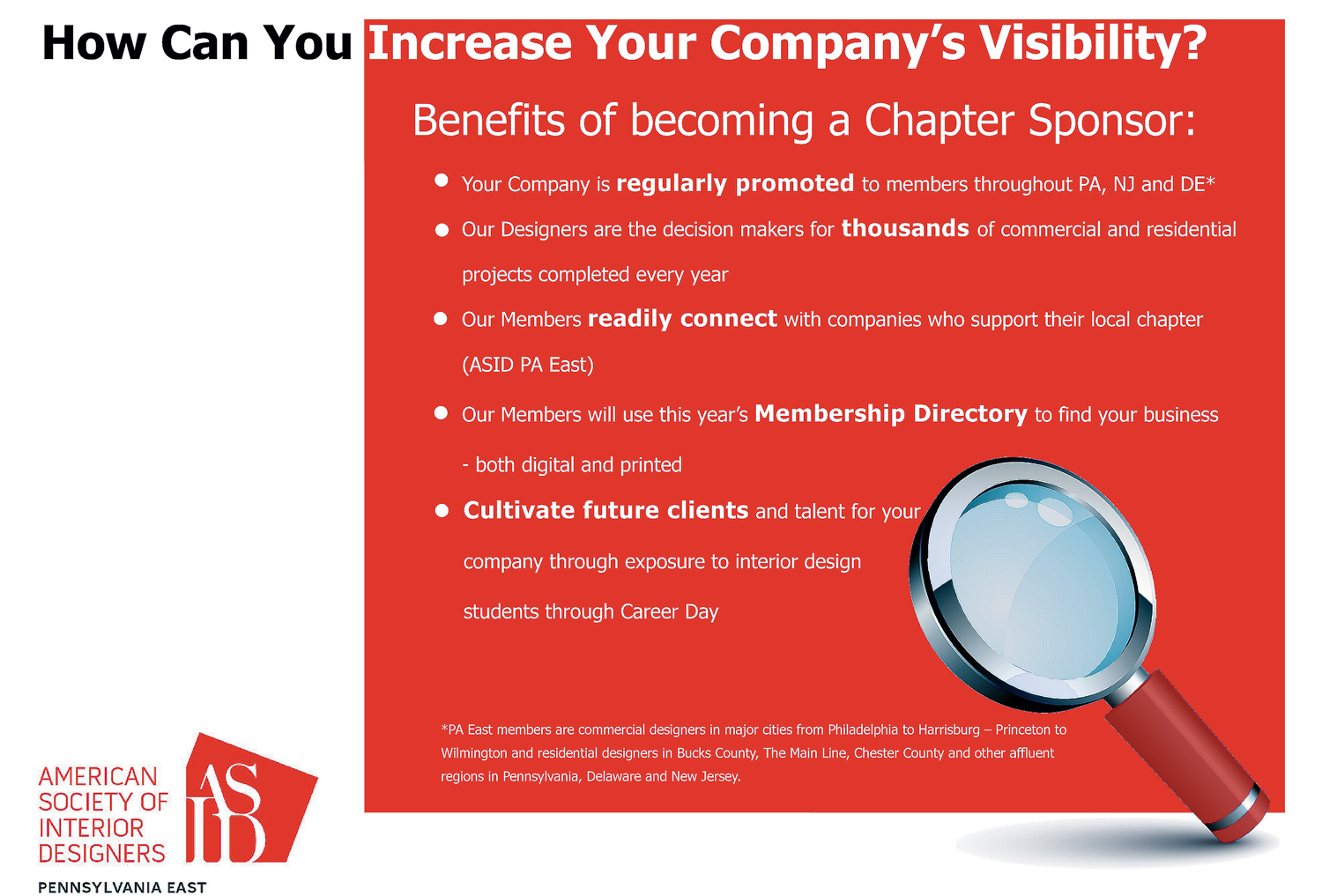 National Sponsorship
Sponsorship opportunities are available on both the local and national level, and offer the ability to increase visibility through additional marketing, branding, special access, or deeper engagement with an audience. As a member of a Chapter, Industry Partners have the opportunity to be involved in their local design community – to network and connect with other members, participate in leadership, or elevate visibility as a chapter sponsor.
To augment local chapter efforts, we also offer sponsorship opportunities that align with ASID national platforms, programs and initiatives, providing you additional access to the ASID network through a variety of channels depending on your preferred exposure.